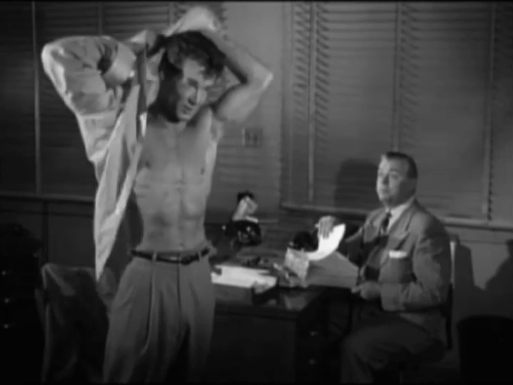 HERCULES JOINS THE FORCE – BETA MAX TV REMEMBERS STEVE REEVES!!!
Stephen Lester "Steve" Reeves passed away this day (May 1) in 2000 at the age of 74. A body builder turned actor, Steve was best known for his roles as Hercules and Hercules-like characters in numerous sword and sandal epics. To commemorate his death, Beta Max TV presents one of his few non-Herculean movies on this week's installment of Exploitation Wednesday!
JAIL BAIT (1954), directed by one of our favorite low-budget exploitation directors Ed Wood Jr., was Reeves' first credited big screen appearance and one of only 2 movies he made where you hear his real voice (his voice was dubbed in all his Hercules adventures). Reeves plays police Lt. Bob Lawrence who along with Inspector Johns (played by B-movie legend Lyle Talbot, the non-werewolf Lyle Talbot) is on the trail of underworld big Vic Brady. Vic involves the son of a prominent plastic surgeon in a murder then blackmails the son to force the father to operate on his face so he can elude the law.
This film noir with an actual plot was kind of a rarity for Ed Wood but still managed to incorporate typical Wood exploitation/B-movie touches and at a Wood-friendly total budget of $22,000! And it also helped launch Steve Reeves career as a box office smash, a career that would soon make him the highest paid actor in all of Europe.
While this was Reeve's first major film, it was also the first and last film for several other cast members. Forty year film veteran Herbert Rawlinson (the doctor) passed away the morning after shooting was completed. For Clancy Malone (the doctor's son), who at one time delivered groceries to Ed Wood, this was his only on screen appearance. And likewise, this was the only screen appearance for Theodora Thurman (Vic's moll) as she returned to her successful modeling and radio career after this film.
A Steve Reeves movie where you hear his real voice and he only takes his shirt off once and wears a tie!!! JAIL BAIT – something a little unique to remember one of our favorite peplum people for Exploitation Wednesday on your home for B-movies…and more! Beta Max TV!!!